Flappy Bird is one of the controversial game that added to history of mobile gaming. This game was added to mobile app stores in year 2013. Originally this game was developed for iPhone. No any significant download in that year. But start of year 2014 it just start to break records. Hitting enormous amount of downloads and popularity. It is one of the dumb games that is hard to play with low graphics. 2D style game with super mario accent. Actually very hard to play. Many celebrities and YouTube stars start to play this game due to its popuplarity at that time and that too cause it to increase its popularity even more.
Game concept is very simple. You have to navigate flying bird through endless list of obstacles by tapping the screen to boost its altitude. Looks simple but it is very hard to pass even 6 obstacles.
Flappy Bird was removed from app store by developer in February 2014. According to records that game was earning around 50K per day. Due to enormous popularity of this game, developer too received significant amount of attention. Unfortunately developer was not able to handle that amount of popularity and not a fan of being popular. He like to live simple life without any disturbances. In order to find his previous simple life he pull that game from app store.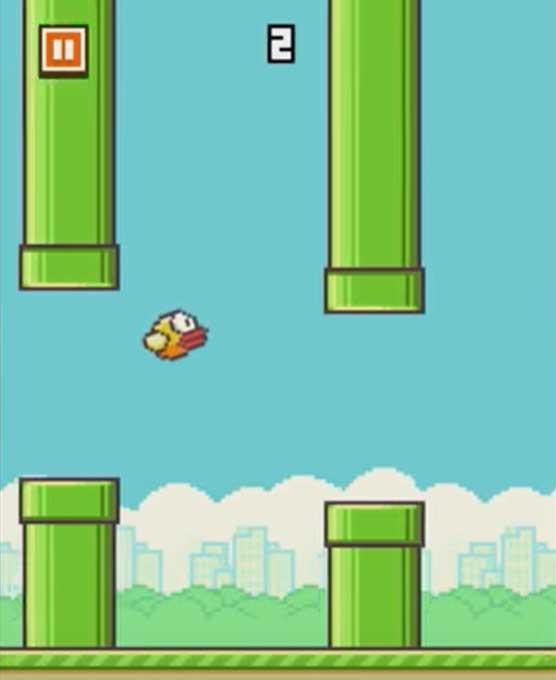 You can download Android Version of Flappy Bird directly from AC Market. Follow below mention steps to download Flappy bird to any Android device.
How to install Flappy Bird on Android
You can easily install Flappy bird Android game from official AC Market app store. No need to download unsafe apk files from internet. Follow below mention steps to download Flappy bird official Android game from AC Market.
Download and Install AC Market
If you already has AC Market on your Android phone or tablet click here to skip this step. Click here to download latest version of AC Market apk. Installation process will be different than any other app. Click below link to install AC Market on your Android phone.
Search Flappy Bird on AC Market
Open AC Market app. Top of the home screen you can see search bar. Click on search bar and type "Flappy". Under the typed text you can see Flappy Bird text appear. Click on that text to open Flappy Bird download page.


Download Flappy Bird Game
Now you can see Flappy Bird download page on AC Market. Click on download button to start download.
You can see Flappy Bird download progress on AC market download tab.
Once download completed AC market will automatically redirect to Flappy Bird installation. Install it like installing any other apps from other sources than play store.
Enjoy Flappy Bird Game on Android.
Suggested Apps