AC Market is one of the best Android Market place available for Android. It is completely free. Where you can find millions of Android apps and games for free including modded ( mod apps ) apps, modded games ( mod games), pro apps, premium apps and many more.
You can literally download anything on ac market without any limitation. For example Google Play Store has some restrictions over some apps like area restrictions. Some apps and games not available for some regions. Some apps not available for some Android devices. Some apps/games block for age and many more. With ACMarket you can literally download any of them. No registration or subscription required. It is completely free.
How to Install AC market on Android
Why install guide for AC Market. Do we can't install this app like other apps. Nope. It is because this app is not available on Google Play store. So installing any app/game away from play store required some special permissions. By default unknown apps/games are blocked. Don't worry no need to do anything special. Just go to settings to enable one options and then you are good to go. Each and every process will be briefly explained with pictures.
Installing unknown apps are differ from Android version to version. For those who have Android version 7 and below has separate procedure. For those who have latest version device or running Android version 8.0 Oreo has to follow another procedure. Don't worry both methods are discussed here.
How to find my Android Version
It is hard to mention common method to find Android version of all devices. Because manufactures change user interface of Android for their device to make it unique. Go to settings and find "About Phone", "About", "General Settings" like option.
Under that find "Software information" for Samsung devices and for others you will see similar option.
Install AC Market on Android 7 and below
How to install AC market on Android running version 7 and below (6, 5, …) will be discussed with picture. Feel free to leave a comment is found anything confused.
Download AC Market
Using your Android phone go to below URL and click download button.
https://www.acmarket-app.com/
Sometimes you will receive message like below
This type of file can harm your device. Do you want to keep this anyway ?
That is for security reasons. Because we are downloading apk file from the internet. Click "OK" to continue download.
Enable "Unknown Sources" from settings.
Once download complete click on downloaded file to begin installation. Before installation continue it will display "Install Blocked" message like below.
install Blocked

For security, your phone is set to block installation of apps obtained from unknown sources.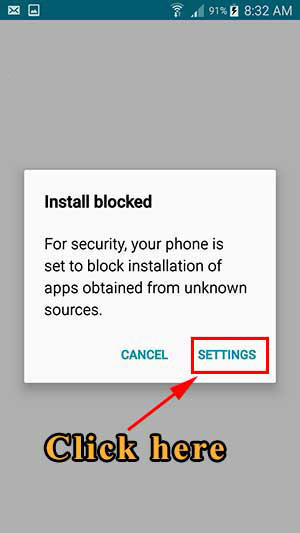 Click on "Settings". From the options appear after clicking settings button find "Unknown Sources" and enable it.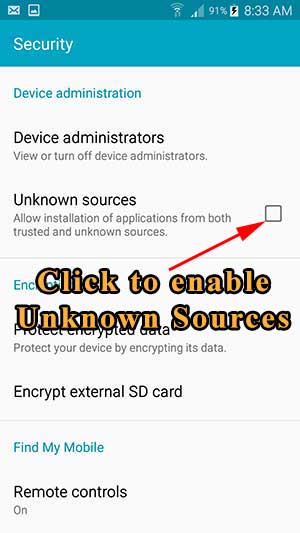 Once you click on "Unknown Sources" it will display message like below.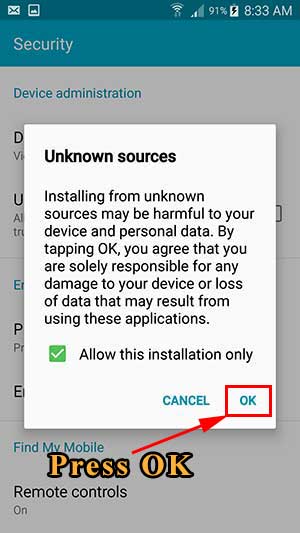 Click "OK" to enable that features. Once that feature is enabled you will be redirect to installation.
Install AC Market
Now installation will run smoothly. On some devices again installation will be blocked with a different message. like "Installation Blocked". In that case click on "more details" and click "Install Anyway ( unsafe )" button to continue installation.
Once installation complete allow permissions it required. That's all.
Install AC Market on devices running Android version 8 and later
For newer devices running Android version 8 and later does not have an option to enable "unknown Sources". Instead it follow some different procedure. For this we are using Google Chrome browser on Android to download AC Market.
Allow Chrome to install Unknown Sources
In order to download unknown APK files we need to allow access for google chrome. We can enable that feature either during the apk download or before downloading apk file.
Go to below website using your Android phone to download latest version of AC Market apk. https://www.acmarket-app.com/
Before download start it will display message like below.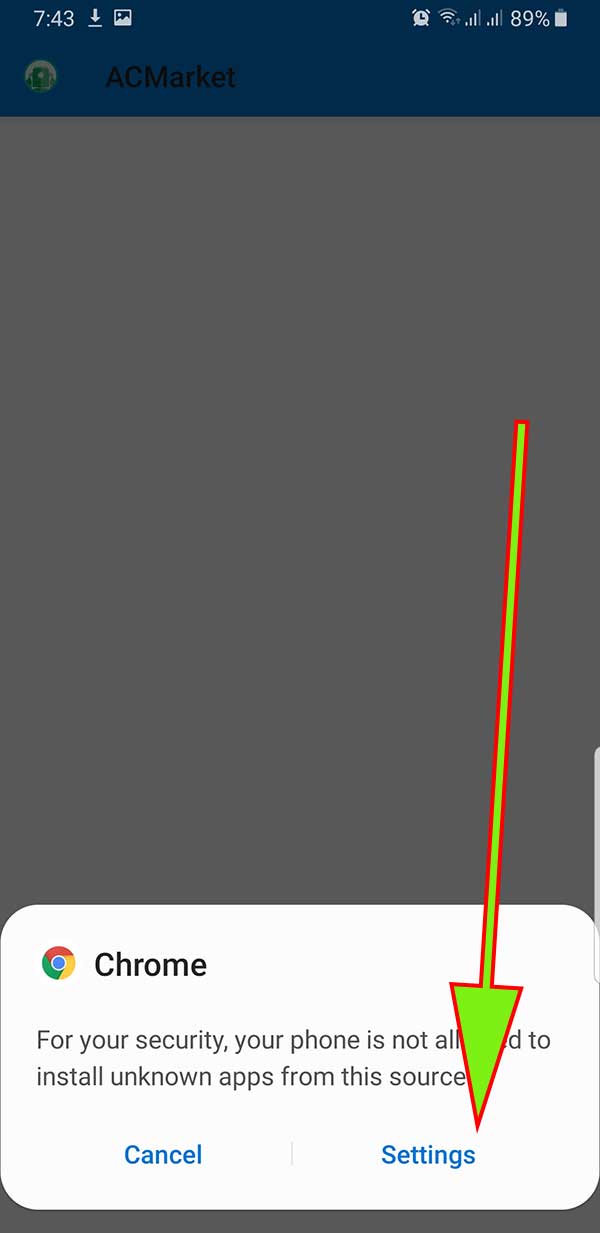 Once you click on "Settings" you will redirect to settings page like below.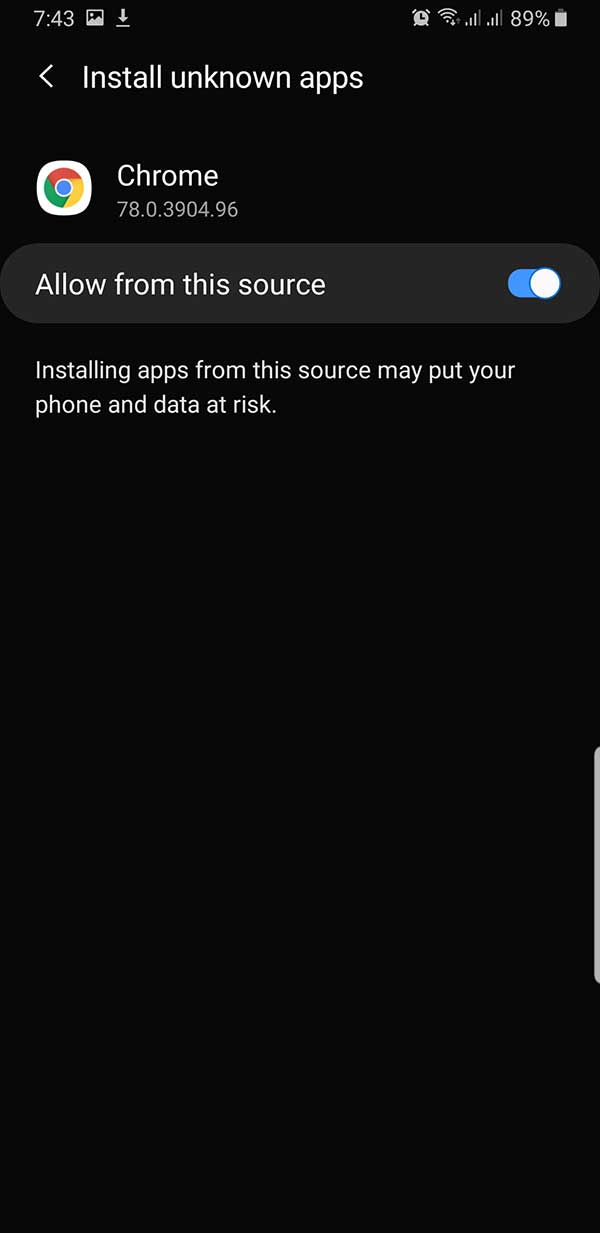 Make sure to enable "Allow from this source" option. Once you enable that option you can download apk file to your phone.
Install AC Market
Once download complete click on downloaded file to start installation. Now you will receive "Play Protect Warning" message like below.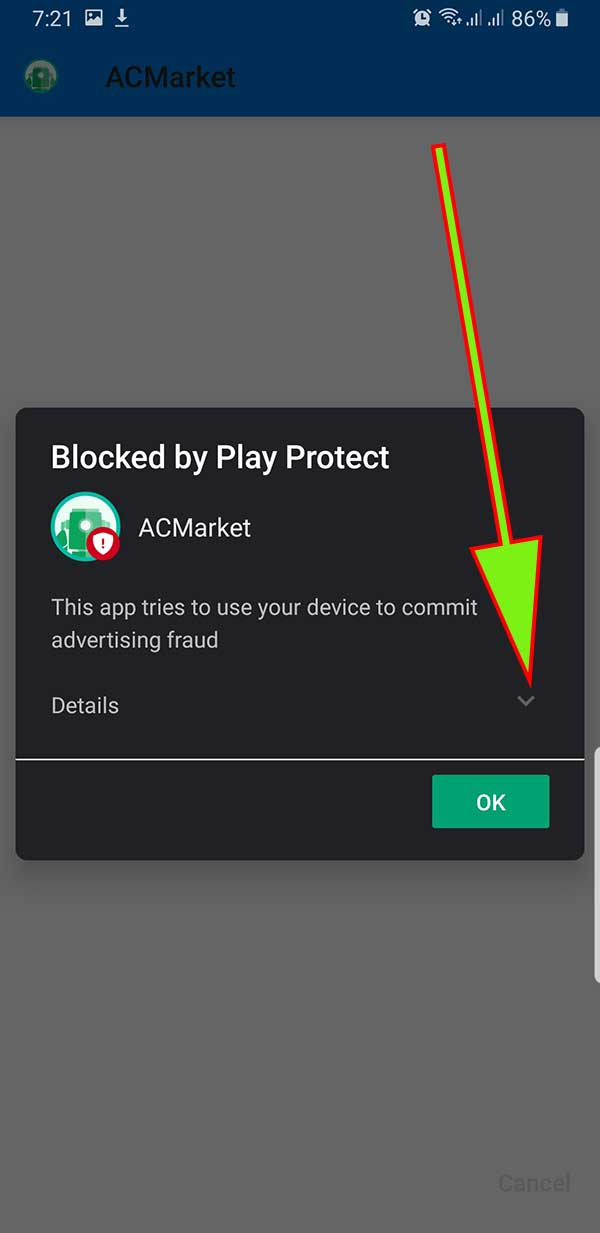 Click on "details" tab for more information on above message. Now you will see "Install anyway (Unsafe)" button like below.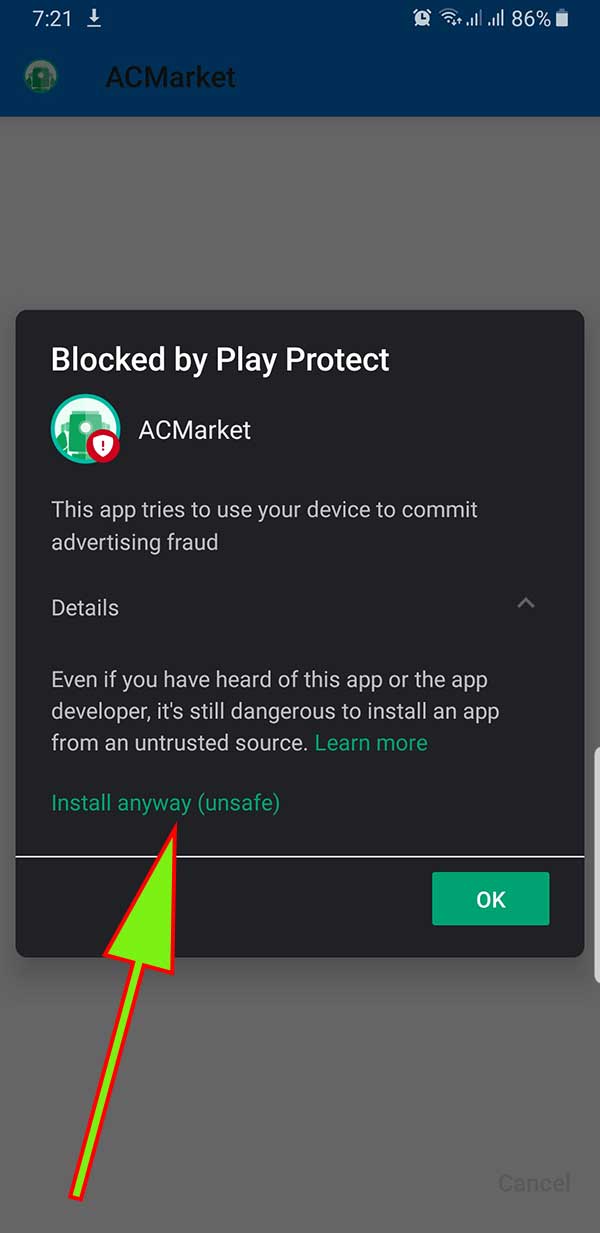 Now installation will run smoothly. Once installation complete it will ask for permissions. Allow those permissions.
Later you will receive notification like below saying "Uninstall harmful app".


Click on that notification. From the popup message appear click "Keep App (unsafe)"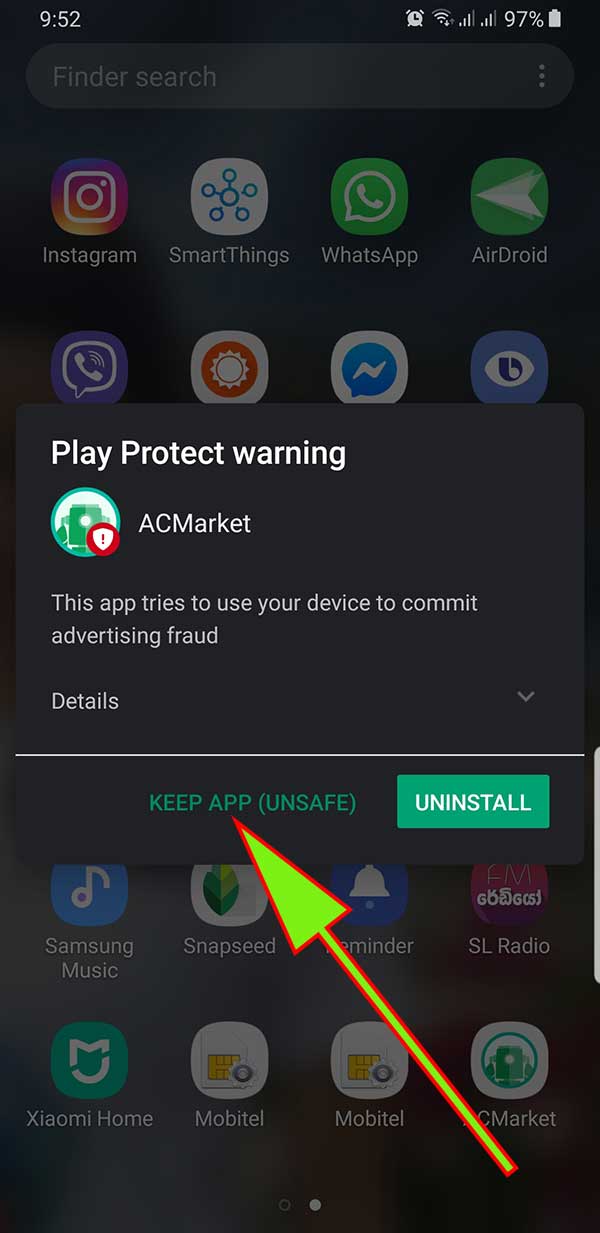 That's all. Enjoy AC Market on your Android phone.
Please note that all Android users does not face many problems as mentioned above while installing this app. Android 10 and Android 11 has provide some support for third party app stores. So you will not see many restrictions as before.