Talking Angela is different than many games out there. This is not a game where it repeat what you say. Many just confused that this game will repeat what we say to phone with animation like "Talking Tom". This is more than that. This game build around a nice little cute kitty including petting. You can pet kitty and do daily stuffs with pet and go through each and every level.
This is a very cute game where any one can enjoy. So many levels to complete. Mainly focused around cute little kitty. This game just contain each and every thing that a pet needed. You can feed, bathe, brush teeth, clean, decorate home and many more.
My favorite part is adding beautiful outfits to kitty. There is huge collection of fashion items including dresses, shoes and makeup. You can literately change how your kitty look like. Contain nice dance movies that you can enjoy.
If you are looking for a game for child then this is one of your best choice. Completely appropriate for children. You can collect stickers while you are level up.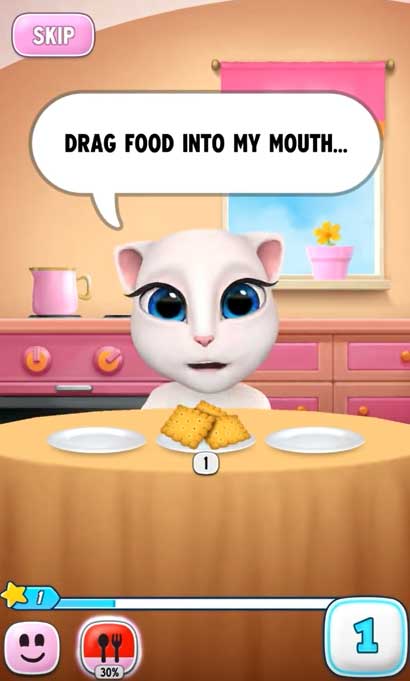 Downsides or cons of this game. This game comes with many advertisements like other games too. You may have ads after everything you complete. For example there is a ad at wardrobe, when you play game, when you level up.
My Talking Angela Premium ( Pro )
This app is not completely free. However you can play and complete all levels from free version too. If you want premium features like premium outfits you have to pay. So this game comes with in-app purchases. You can go for exclusive monthly subscription. Monthly subscription is around $4 per month. For example captain cute monthly subscription offers:
– captain cute outfits.
– Option to resume playing 4x per mini game sessions.
– Unlimited energy for playing mini games.
Download My Talking Angela APK for Android
My Talking Angela available on Google Play Store. If you have google play store just click below download link to download official Talking Angela APK for Android.
If you does not have google play store you can download this game via AC market APK too. Just download and install AC market app market place for your Android phone and search "My Talking Angela". That's all.