| | |
| --- | --- |
| Name: | F-Droid |
| Size: | 7.21 MB |
| Last Updated: | June 02, 2020 |
| Category: | Android App Market Place |
| Requirement: | Android 4.1 and up |
Download latest official version of F Droid APK for free.
This is a special application. Because it is an app that respects and protects the privacy and the privacy of the device. Also, this is specifically designed for android devices. So what is the help form this kind app??? It makes it easy to install apps, browsing from the Internet and making the updates of your android devices. So simply f droid can be used as a software app manager. Then we will talk about the uses and the specification in the f droid app.
If there is an update for your device you will be notified of the f droid. Sometimes the device will update automatically. Also, you can filter out the compatible and the non-compatible applications for your device. For the installation of the f droid application, you need to have a device with android 4.0 version. You have to download this app in a secure way.
F-Droid app market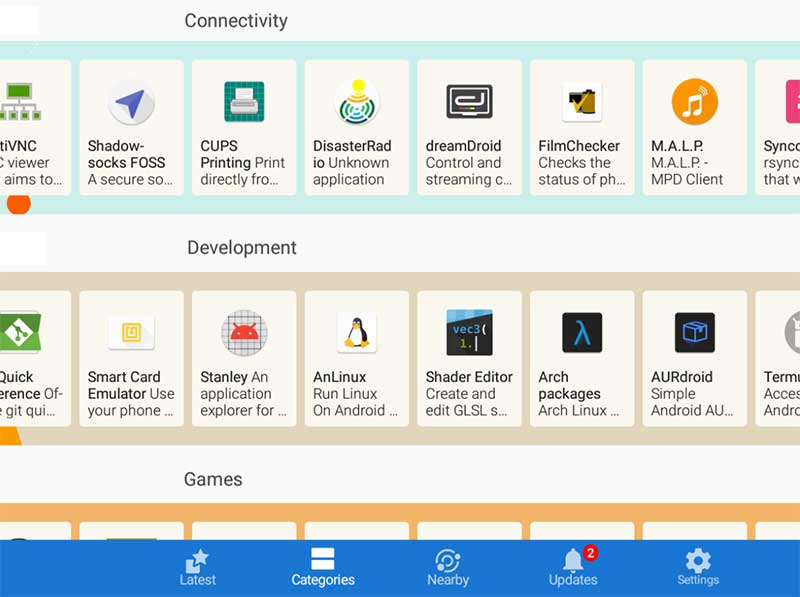 Then we will see the most necessary details about the f droid apk. You can maintain your Apks and the other packages through f droid. You have the ability to make a repository directory by using this app. Then after that, you can push it to any HTTP. Then you can access that. As you know this is similar to the Google Play Store.
Do you know the developer of the above amazing application? It is Ciaran Gultnieks. It was initially released on the 29th of September 2010. This was written using the python programming language. F droid app is suddenly growing. So it contained about 3000 apps. F droid is involved in some research too. Those are the software in downloading, working and the updating of your android device.
Key management
This F-droid app is a freely available source. There is no restriction to use this source too. You have to allow the download from unknown features to access this f droid. Also, you can't download it from the Google Play Store.
As the final point, I have to tell you the key management in this app. The android operating system will check the key. When it gets updated. They are looking for the update signed with the key. Now Android has allowed the usage of their own keys only for the developers.
Then I have told you sufficient details about the f droid application. If you want to know more, the perfect method is experiencing this awesome app store by yourselves.