Many Android users want to run copies of same app. For example many want to run more than one WhatsApp account. Not only WhatsApp, Facebook, Twitter, Instagram, and other apps. Mainly social media and messaging apps. If you have dual sim phone you can do that easily. It is because dual sim phones has the ability to run two versions of same app like WhatsApp by default. So how to clone Android apps on non dual sim phones?
App Cloner APK
App Cloner apk can clone your Android apps easily and run two of those apps as separate apps like running on two Android phones. If you have two WhatsApp accounts no need to use two phones. You can clone default WhatsApp app and run those two WhatsApp accounts on same phone. You can do same with other apps like TickTick and all.
Once you open the app you can see list of installed apps. Just click on the app you want to clone. It will create installation file for you. Once installation clone file was created install it.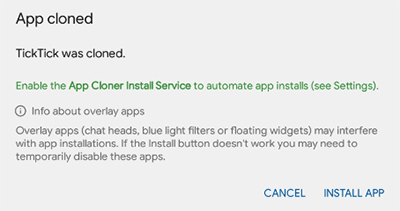 There are several options available to distinguish newly installed or clone app from original app. You can change icon color, Flip icon, rotate icon, add badge, replace icon and many more. Those options are very useful to distinguish cloned app from original.
Using this app you can easily create independent copies of your apps that can be installed as stand alone Android app. So there no need of run-time support like other cloning apps. You can easily update cloned app using App Cloner. You can't do automatic updates on cloned apps. In order to update cloned apps use "Update Clone" button on app cloner. It will create new clone using the original updated apps and replaces the old clone.
Note: All apps can not be cloned. Some apps are developed not to be cloned. Those apps detects and prevent cloning. For example Google and Play Games are not supported.
You may try this app on various apps. There are lots of untested Android apps out there. If you encounter any incompatibility issue you can report that issue using "Report app issue" button on App Cloner.
App Cloner APK Download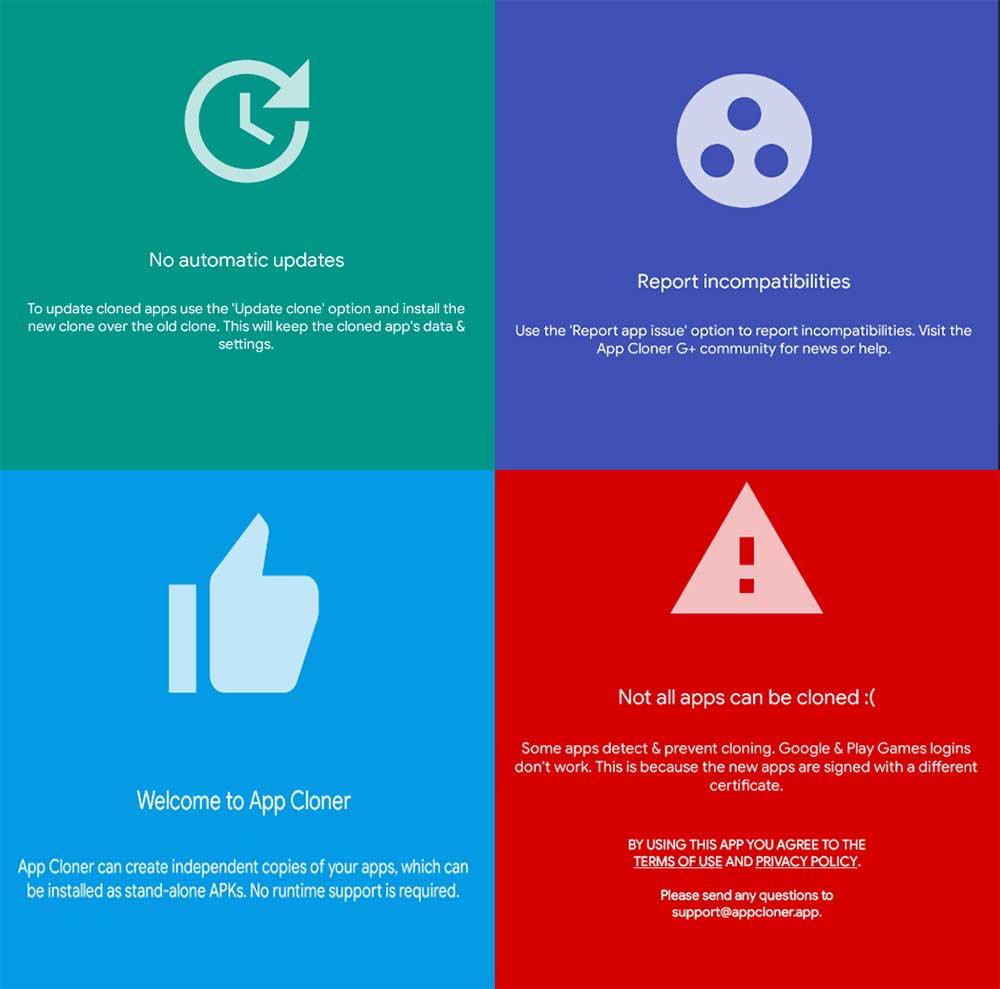 You can download and install latest version of App Cloner from AC Market for free. If you does not have AC Market install on your Android phone click below link to download latest version of AC Market.
Download AC Market.
Installation is pretty simple. Make sure to grant all the permissions required to run App Cloner. If not this app will not work as intended.
Enjoy dual apps on your Android phone for free.