Have you ever wanted to remap your hardware buttons on the Android? Did you able to find a way to do so? If not, here is the best app or the way that definitely help you to do so. The app Button Remapper surely will help you to remap your buttons in a more convenience way for you.
What is meant by Button Remapper?
To say simply this is an app that helps you to remap all your hardware buttons in the Android. This helps you to change the performances of each button in a favorable manner to you.
Now you may have a question what are these hardware buttons in the Android we can change so? To state a few they are volume up and down buttons, head set buttons, camera buttons, physical home button, capacitive buttons and so on.
You can change the settings of these buttons such that it functions as you desire. I am sure that this app will be of great help if you want a long-lasting functionality of these buttons and if you want to make your Android functionality very easy and quick.
What are the functions of the app?
Basically, with the use of the app you can remap all your hardware buttons. You can add a short or a long press to your button as an additional accomplishment. Or else you can add double tap option. Through these you will be able to open your favorite app, the web browser, camera or etc. Or else you can see al your notifications while double tapping a button.
Or if you want you can use your buttons to change your screen brightness, I think volume keys are suitable for this kind of a remapping. As well with this you can change the buttons actions as you wish. That means if you want to change the buttons that we have to press to take a screen shot you can change in a way that is more convenient for you. . If you want to get rid of from the glitching buttons then you can do it via this app Button Remapper.
In addition, through the app you can add actions like answering a phone call, split screen option, disabling the buttons, taking screen shots, turning off the screen, open flashlight, do not disturb option and many more other actions.
For most of the actions you do not need a root. But for the actions like killing current process, search, menu etc. you need a root. You also can use this app for games also.
So, friends if you want to remap all your buttons in a more expedient way simply have this app on your Android too.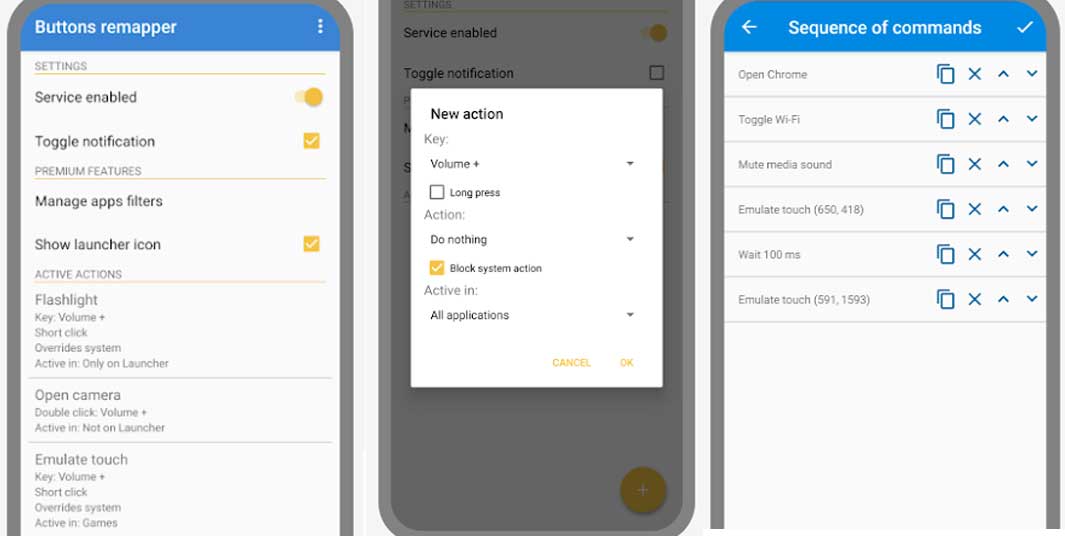 Download Buttons Remapper for Android
This is a free app available on google play store. If your phone has play store application search this app on play store. If you are unable to find this app on play store click below link using your Android phone. It will open play store download link.
However, there are many Android devices without play store application or google services. You can use AC Market or Aptoide on those devices. Downloading this app using a app store will guarantee its future updates and features.