DU recorder is a fantastic app to record Android screen. Simply, the DU recorder APK is an app that allows you to record anything in your Android screen. It is purely a screen recorder. The app gives you the chance to capture super quality and very smooth videos. This app bundles with may features that definitely lead you to have a very exciting experience. This supports to about 20 languages.
What can you record using DU Recorder?
DU recorder allows you to record many actions. Including:
Games that you are playing in your Android
Video that you are watching
Video call with your friends or any other one you love
A live show that you want to watch again and again and many more other things that you need to record.
You can choose many video resolutions to record. Contain all basic video recording actions through like pause, resume, recording external sounds like features. Moreover, you can use your front camera also. You can control your recordings by using the options floating window or notification bar. There is no time limit for your recordings. Recording duration is limited based on your storage space.
Is recording Video is the only task of DU Recorder?
Of course not. In addition to the recording of your screen it allows you to create some more actions here. What are those?
You can edit recorded videos
Using this feature of the DU Recorder you can edit your videos. By editing your videos in a manner that you may love it to be you can have a nice and a beautiful high-quality video.
The app offers you with some common video editing tools like: Trim. Merge, Rotate, Crop, volume adjust like basic tools. If you want you can add a surrounding music. Or else you can add background pictures or subtitles to the video.
Take screenshots
Thanks to this app you can take screenshots very easily. Just using a one-click you can take screen shots. Quite a simple procedure than the procedure we use now. If you want you can edit the screenshots too.
Can edit the images
Here also the app offers some tools to add some colors and flavors to the images. You can add several photos and can get a one image. Or else you can crop the image. If not, the blur option is also there to hide some things.
Opportunity to create Gifs
Using some tools in for the video editing you can convert a video in to a Gif very easily to share with others. Can be a Gif creator!!! Otherwise you can record the screen itself as a Gif. Quite an interesting feature.
Acts as a live creator
With this feature you can stream your screen with some apps like YouTube, Facebook, Instagram etc. By this method you can share anything you like to share just in few seconds. Very impressive, easy and a quick method.
Is it Free?
Yes, Of course. The app is free to download. The downloading process is also very easy and a quick process.
Download DU Recorder APK
Du recorder is a free app with ads. You can freely download and install this app directly from Google Play Store. If your Android device has Google Play Services, just use only play store app to install this awesome screen recorder. Because it is safer and it guarantees to have future updates.
You can use third party app stores like AC Market or Aptoide to download DU recorder APK. Use this method if you does not have play store app only. Here I am going to use AC Market app. First download and install latest version of AC Market.
Open AC Market app and click on search icon.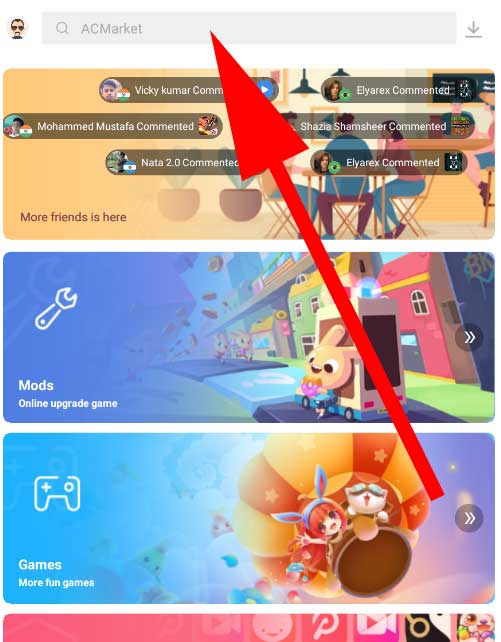 Now type "Du recorder" and hit search. You will see search result like below picture. Select the app you want.
Now click on download button to begin download.
Enjoy free Android screen recorder with editor. Feel free to leave a comment.