AC Market Lite is light or minimalist version of AC Market App Store. Actually there is no much difference with full version of AC Market. Main difference is the size of those two files. AC market lite half the size of full version and interface is much more clear and minimalistic.
AC Market full version already optimized for all Android devices and it already run fast on all most all Android devices. Lite version specially designed for low end smart phones that are unable to run full version. There is a downside of using lite version. You can't install AC market lite version along side with Google Play Services. If you does not have Google play services on your Android device then you can easily install AC Market lite. If not you will get error message like below to get full version.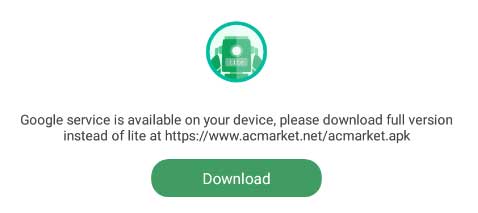 AC market full version can install along side with Google play services. Only requirement for full version of AC market is to have Android version 4.4 or later. Android phones older than version 4.4 will not be supported. Same goes with the AC Market lite.
Normally AC Market lite goes one version behind the full version. Installation is ideal for older smart phones. Below describe how to install AC Market lite on low end Android phones.
In order to install this version you have to enable "Unknown Source" from security settings. In order to enable "Unknown Sources" follow below mention steps.
First go to "Settings"
Find "Security" settings
In security settings you can see "Unknown Sources" option.
Click on "Unknown Sources"
Once you click on "Unknown Sources" you will receive a popup message.
Click "OK" on popup message to enable "Unknown Sources"
Now you have to download latest version of AC Market lite apk. Click here to download AC Market lite.
Open download AC Market lite apk to begin installation. Now installation will proceed as normal.
Suggested Apps