The latest version of AC Market, 4.9.6, has released on 19th july 2023 with new features including an expanded game library, enhanced app recommendations, and the opportunity to connect with like-minded gamers. This update also introduces a new addition to the navigation menu – the "MMOGA" button.
Better App Recommendations for You
Browsing large collection or mods and games can often be overwhelming. AC Market addresses this challenge by refining its app recommendation system in version 4.9.6. Thanks to advanced algorithms and user behavior analysis, the app now curates personalized recommendations tailored specifically to your interests.
By analyzing your app usage patterns, favorite genres, and previous downloads, AC Market's recommendation engine ensures that you receive suggestions that align precisely with your preferences. This results in a smoother and more enjoyable app discovery process, introducing you to hidden gems that might have gone unnoticed otherwise.
Free Download Requires Your Support
AC Market has always providing free access to mods, apps and games. The "Free Download Requires Your Support" initiative encourages users who can afford to contribute to do so, as it helps cover server costs, maintain the platform, and support ongoing development efforts. This approach ensures that AC Market remains a freely accessible resource for all users while fostering a community-driven spirit.
Upgrade
Upgrading to AC Market 4.9.6 is essential for users to unlock all the exciting features and benefits it offers. The update process is straightforward and user-friendly. Existing users can easily install the new version over the previous one, preserving their settings, library, and connections. Click here to upgrade AC Market.
The Integration of MMOGA with AC Market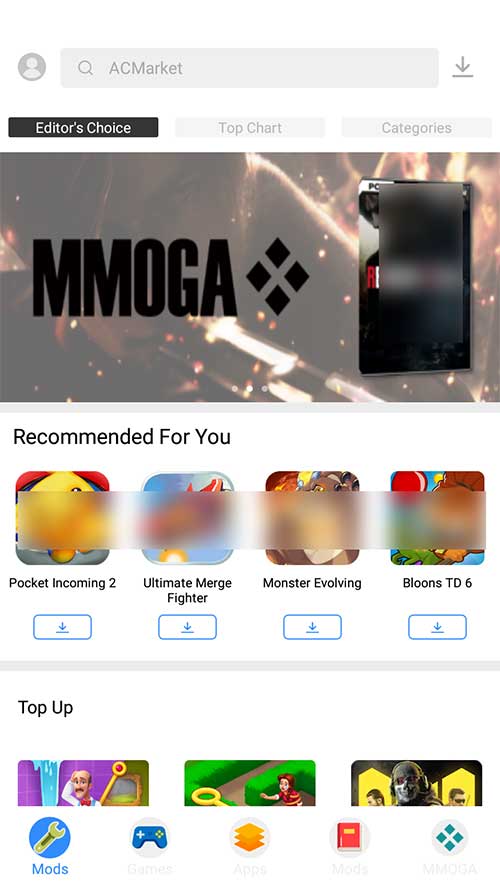 The most notable addition to AC Market's navigation menu in version 4.9.6 is the "MMOGA" button, joining the existing categories: "MODS," "GAMES," "APPS," and "BOOKS." The integration of MMOGA marks a significant step for AC Market, as it introduces a unique blend of gaming and e-commerce.
MMOGA is a reputable online platform that specializes in providing virtual goods, including in-game currency, items, game keys, and more, for a wide variety of popular games. By integrating MMOGA into AC Market, users gain access to a curated selection of in-game items and bonuses at their fingertips.
This integration not only enhances the gaming experience by offering exclusive content but also simplifies the process of acquiring items within games. With a few clicks, AC Market users can explore the MMOGA section and access a range of virtual products, enriching their gameplay and giving them an edge in the virtual worlds they love.